CNA EXAM AND JOB INFORMATION - FLORIDA
In this article we will discuss everything you ever wanted to know about how to become a Certified Nursing Assistant (CNAs) in Florida, including information on the state test and obtaining your license. We will discuss what CNAs do, what their salary is, and what is the fastest way that you can become a CNA yourself.
LIFE AS A CNA
What is a CNA?
CNAs assist in the healthcare world by providing many critical routine tasks that patients need  to have performed multiple times a day. CNAs are especially needed when patients have some type of mobility limitation, such as elderly patients or patients who have undergone surgery. 
What do CNAs do in their jobs?
CNAs help patients with their daily routine tasks such as bathing, eating, brushing teeth, transferring from a bed to a wheelchair, as well as basic healthcare tasks such as taking a patient's blood pressure. In many instances, CNAs are often the healthcare staff that interact the most with patients, and serve a critical role in managing the overall patient experience. A caring CNA can help a patient who is undergoing stress and frustration due to their limitations have a positive experience in the hospital or care facility. Many CNAs gain much fulfillment by helping improve the quality of life of their patients. Naturally compassionate and caring individuals are generally the most successful and happy CNAs.
What kind of jobs are available for CNAs?
Since CNAs serve a role in helping almost all patients, job prospects for CNAs are generally very good. The state of Florida, in particular, is attracting many older residents who will need long term care in the not too distant future. Many CNAs work in long term care facilities such as nursing homes, as well as in other kinds of nursing facilities. These roles are great for CNAs that desire to develop long term relationships with their patients, as they will frequently be the main point of contact for the patients. CNAs can also work in hospitals; where they assist with many patients as they move through various hospital departments. Another opportunity for aspiring CNAs is the option to become a traveling CNA. Traveling CNAs visit patient homes and perform duties that are similar to those in a nursing facility, but without the patient having to travel.
BECOMING A CNA
What is the fastest way to become a CNA in Florida?
The fastest way to become a CNA in Florida is to take an online course and upon course completion take the test as a Challenger. You can also opt for an in person course, some of which are certified by the state. This can be an option for those that feel they would like more preparation, but keep in mind the cost of the in person courses can be much higher. During normal times, the process can be completed in one month, from the point the student signs up for the course, to them taking the state exam to finish the process. Unfortunately, as of March 2023, it has currently been taking about 4-6 weeks for students to get a test date from Prometric (the third party company that administers CNA exams in Florida). Due to this, we recommend students budget 2-3 months from the point they register for the course to the point where they will have their CNA license and be employable.
Can you take CNA classes online?
Yes! Florida is the only state in the nation where you can take any CNA online course, take the state test, and receive your license if your pass. Note that no course can grant you your CNA license online, as the state test has to be taken in person. If you are interested in taking an online CNA course, we encourage you to check out our offering, as it is one of the most established and economic in the state.
I prefer to take a CNA course in person, where can I find courses in my area?
If you feel you prefer an in person course as opposed to our online offering, we encourage you to use the tool below to specifically find programs in your area.
What is the average salary for a CNA in Florida?
The average salary for a CNA in Florida is $13.60 per hour. CNAs also earn on average a total of $4,125 in overtime pay a year, according to Indeed. Some CNAs can earn upwards of $20 per hour, depending on their employer. Location can also play a factor, with CNAs in Fort Myers earning an average of $15.67 per hour. You can estimate your potential CNA salary in Florida by using our CNA Salary Calculator.
What are the requirements to become a CNA in Florida?
Be at least 18 years of age

Possess a high school diploma OR take a state certified CNA training course

Pass the Prometric Nurse Aide Exam

Pass a Level 2 background check performed by a Livescan vendor

Note: If you have marks on your criminal record, you may want to read our article on becoming a CNA with a criminal background.
Inside of our online course, we will show you exactly how to go about getting your background check taken care of, but here are a couple of key things to note:

When you go to your Livescan vendor of choice to get your fingerprints take, they will ask for an ORI number. The ORI number to use for the purposes of the Florida State CNA Exam is #EDOH0380Z.
If your fingerprints are rejected for any reason (usually because of poor quality images), then you can use the TCR number obtained in the rejection response to schedule another fingerprint appointment free of charge. If you do not have a TCR number after rejection, call the Florida Health Department to obtain it.

Have a valid Florida address - you need it in order to register for the state exam
Can I become a CNA if I am under 18 years old?
Yes, in Florida, you can be a CNA if you are under 18 years old; however, our course will not work for your situation if you are under 18 and have not yet graduated high school. If that is your case, we recommend you use our tool above to find accredited courses in your area to determine if any can work for your situation. To take advantage of our online course you need to either be over 18, or have a high school diploma. This is because we train you to take the state exam as a a challenger, and these are the requirements for that path. If you take an accredited course, they can waive this requirement as they have other requirements in terms of instruction hours and course approval.
What does the CNA exam consist of?
The CNA exam is administered by Prometric and consists of both a written portion and a practical clinical skills portion.  Clinical Skills:
Costs $120

Your test evaluator will assign three randomly assigned skills from the clinical skills checklist. Since you do not know which skills you will be tested on, you need to become proficient in all of them. We cover all skills in our course.

You will also be evaluated on handwashing technique and indirect care behavior.
Knowledge:
Costs $35

The written test (also available in audio format) is also called the knowledge portion of the exam. This exam is available in both English and Spanish, and consists of 60 multiple choice questions.
Our course will prepare you for both parts of the test.
How to take the CNA exam?
In order to take the CNA exam to get your CNA license (sometimes also called CNA certification), you need to register through Prometric. There is an option to apply online or through a paper application, but we recommend applying online. When applying, if you have gone through our course, you will choose the "E3 Challenger" option to challenge the CNA test. As a challenger, you have up to three attempts within a two year period to pass the exam. If you fail either the clinical or written portion three or more times within two years, you will need to register for a state-certified program containing 120 hours or more of CNA instruction. This kind of training will be many times more expensive than our online course, so we recommend that you practice as much as you are able to in order to maximize your chances of passing on the first attempt.
Can I take the CNA state exam online?
Unfortunately, you can not take the CNA state exam (also known as CNA state test or CNA certification exam) online.
Where can I take the CNA certification exam?
Where you will take the CNA exam will depend on which training path you have chosen and where in Florida you are located. If you are training with an accredited in-person program, then you would be examined by the program staff at their location at the end of the program. If you are training with an online course like ours or any other challenger program, you will take the exam at a regional test site. There are regional test sites all over the state, and you can choose the location that is most convenient to you when you are registering for the exam with Prometric. Below is a map showing most of the regional test sites; though we encourage you to also check out the current official list of testing sites here.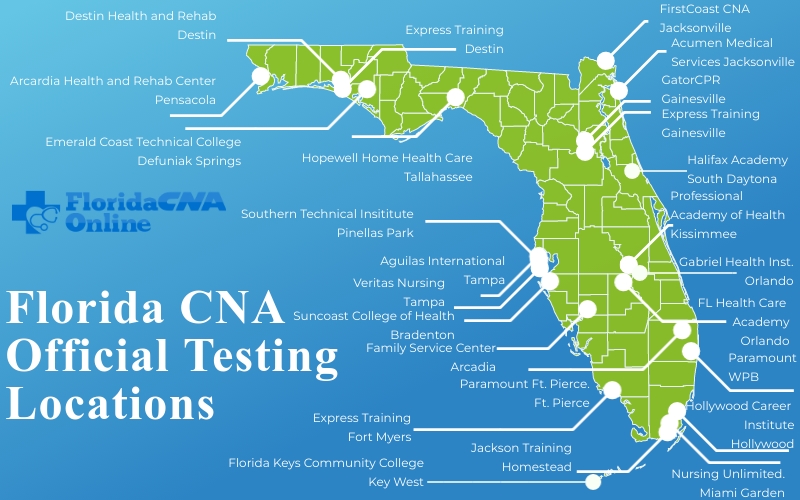 How much does the CNA exam cost?
The CNA exam costs a total of $155, with $120 being for the clinical test and $35 being for the knowledge exam. If you fail either portion of the exam, you will only need to repeat the part that you didn't pass. For example, if you pass the clinical but fail the written exam, you would only need to pay $35 to retake the written portion and you would not need to retake the clinical portion.